Services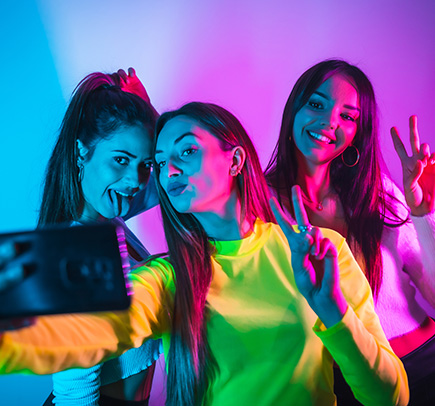 Experience the 360 Difference
Are you ready to take breathtaking, Instagram-worthy photos and videos that'll have your friends saying, "WOW!"
Then step right on up and experience The Amazing 360.
The Amazing 360 can be rented or reserved with professional attendants who are ready to make your next party, wedding, gala, or whatever festive occasion you're having an unforgettable one.
The Amazing 360 is an immersive booth that's perfect for groups of up to 5-6 people! The studio-grade camera rotates around you in 360-degrees as you pose, creating a stunning video that showcases your style, energy, and personality.
Our on-site multimedia technicians and video directors love creating a fun atmosphere during your event and will spice up the celebration by providing fun props, personalized graphics, special effects for videos and photos, custom designs, and more.
We'll help you cherish those moments forever in 4K and 1080p high-definition photo and video quality with live streaming capabilities too. If you're launching a corporate or private event, we'll guarantee a brandable experience that fits your theme and every event we throw is social media optimized, instantly shareable, and can be downloaded to your mobile devices.
And the best part is, we'll travel to bring the party and The Amazing 360 experience to your next event! Contact us to learn more about our packages and services for more details.